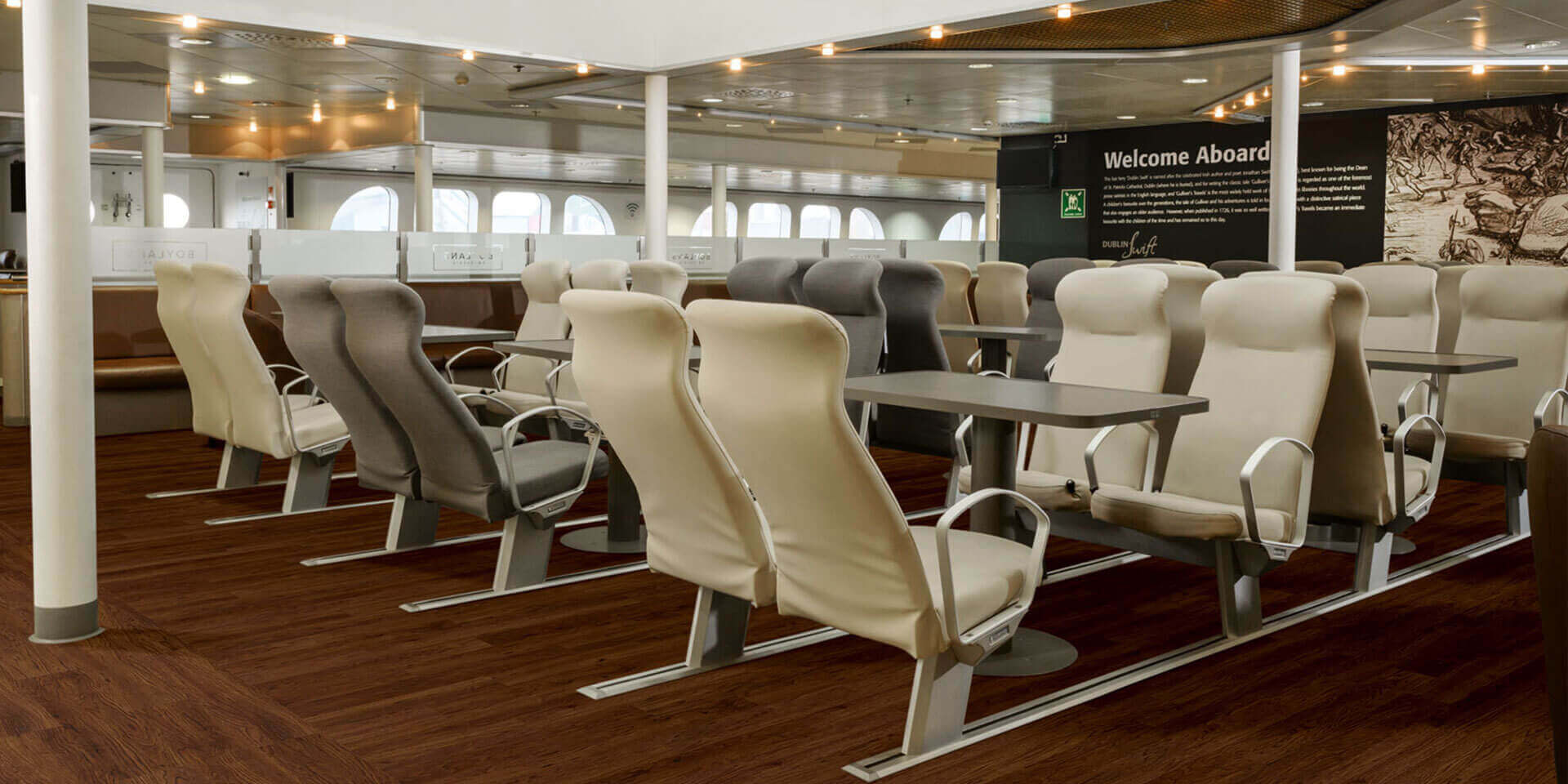 Going to a restaurant means enjoying the dishes served. Drinks are poured at the bar during a good conversation with a friend and in the casino, people like to take a gamble. Different areas on a ship with a clear similarity. People come together in all these rooms and the floor is used intensively. A floorcovering that is suitable for this is necessary, but which type of floorcovering should you choose?
Create a unique atmosphere with your own design
Besides the fact that a floor covering should have functionalities that match the space and its use, we can imagine you also want it to complement the design you have in mind. The  Axminster carpet is perfect for the public areas on a cruise ship, river cruise or super yacht. For the woven carpet, you can select a pattern in the design tool and choose the number of yarns in the corresponding color. For the tufted carpet, you supply your own design, which is then printed on to the carpet. Are you in need of a fast solution? No problem! We have Axminster carpet in-stock and many other possibilities.
A carpet with the IMO certification
Axminster's carpet is made of 80% wool and 20% polyamide. This combination ensures that it is very strong and wear-resistant. It also meets all fire safety requirements. Did you know that, among other things, public areas must meet the strictest requirements in order to meet the IMO certification? It's only logical when you are dealing with so many people. All flooring used in public areas must meet at least PART 3 and 5 of the IMO certificate.
Choose the weight yourself
In some cases, you may want to keep the weight of the floor as light as possible. The lighter a boat is, the faster it travels and the less fuel it uses. Axminster carpets come in various weights. This does not mean that you should always go with a heavier carpet for better quality. The weight of a carpet has nothing to do with this. Our advice is to keep the carpet as light as possible.
The Axminster carpet is a great solution for the cabins of an offshore vessel. But it is not the best option for the mess room. Here it is better to opt for hard floor coverings, such as PVC or vinyl. Have you ever thought of incorporating a combination of different floor types into a space's design? When you combine the Axminster carpet with the Luxery Vinyl Tiles from Amtico Marine, you will be amazed at the result.
Floor covering for a public area
Have you been inspired to incorporate the right floor covering into the design of the public area? Of course, we understand that it is nice to see the material yourself first. That's why you can easily request a sample in our webshop when you have an account.